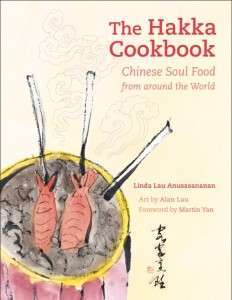 Looking for a gift for someone who loves to explore new cuisines and enjoys culinary history? Do they like to cook and eat Chinese food? If so, consider giving them The Hakka Cookbook, Chinese Soul Food from around the World. My book contains more than recipes. It also holds history, art, and personal stories.
My book uncovers the "soul food" of the Chinese migrants known as the Hakka. It is the result of my exploration to find my own Hakka identity and culinary history. As I traveled and interviewed Hakka around the world, I realized that the keepers of the Hakka recipes were the older generation. I wrote the book to preserve the recipes and stories of these relatively unknown Chinese migrants who live in scattered communities all over the world. If you have Hakka friends, relatives, or grandchildren, this would be a meaningful book to help them understand their history and food.
The Gourmand World Cookbook Awards 2012 recognized The Hakka Cookbook as the "Best Chinese Cuisine Cookbook in the World."
Order the book from your local bookstore or explore online bookstores such as Amazon or Kinokuniya. Click here for more options on where to buy The Hakka Cookbook, by Linda Lau Anusasananan, published by University of California Press. Read the reviews and articles written about the book to help you decide.