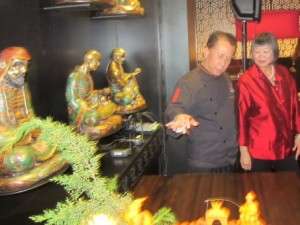 A few days ago, the Asia Society Northern California sponsored an event on Chinese Soul Food: Hakka Cuisine at M.Y. China in San Francisco featuring Chef Martin Yan, who wrote the forward for my book, and me. Robert Bullock, Assistant Director for Programs Northern California, proposed the idea almost two years ago. When we got a date from the globe-trotting celebrity Martin Yan, we were able to pull together an off-the-menu dinner program. So many people helped–Asia Society, M.Y. China, and A.F. & Co. They organized and publicized the event. Hanson Li of Saison Restaurant donated wine.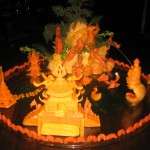 Martin Yan and his chefs Tony Wu and Kin Fong and I collaborated on the menu. I was impressed that the chefs had studied my book and were able to convey an authentic Hakka flavor to the dinner. Even the intricate vegetable carving by Executive Chef Tony Wu reflected the mountain home of a Hakka village. With the exception of the bitter melon palate cleanser and the dessert, the menu reflected recipes from the book. Let me share the evening with you.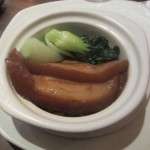 After Martin and I talked about Hakka history and cuisine, the meal opened with a Hakka classic, Pork Belly with Preserved Mustard Greens (kiu ngiuk moi choi). This dish epitomizes traditional Hakka characteristics: robust flavors, hearty satisfaction from the rich pork, and salty savoriness from soy sauce and preserved vegetables. M.Y. China's rendition melted in my mouth. Individual portions were presented in small clay pots. To make this dish at home, see pages 42 to 44 in The Hakka Cookbook.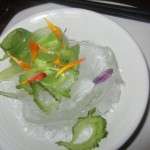 For a innovative palate refresher, M.Y. China chefs created a new dish made from bitter melon, a popular vegetable in Hakka cuisine. I was a bit surprised when Executive Sous Chef Kin Fong suggested serving the bitter melon raw. Traditionally the bitter vegetable is cooked. It is often stuffed with a meat filling, then braised or poached. Slices may also be stir-fried. The chefs shaved raw bitter melon into paper-thin slices, blanched them briefly, and served them cold in an ice bowl. A scattering of edible flower petals and a dressing of acacia flower honey and wasabi elevated a humble vegetable to royalty status. The bitterness of the vegetable was toned down by blanching and balanced with the sweetness of the honey. Although Chilled Bitter Melon is not a traditional Hakka dish, it fit the meal beautifully, refreshing the palate and cutting the richness of the preceding pork belly.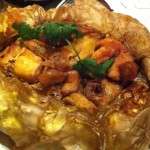 One of the most famous Hakka classics is Salt-baked Chicken. In China, the chicken is rubbed with seasonings, wrapped in paper, and cooked in a hot salt. The chicken emerges juicy and aromatic. Outside of China, most restaurants and home cooks do shortcut versions, either rubbing the chicken with salt and steaming or poaching the chicken in salted water. The results more closely resemble Cantonese white-cut chicken. M.Y. China took no shortcuts and cooked the classic version in salt, a rare treat. They showed the guests the whole chicken, partially wrapped in paper and nestled in the hot salt. Then they returned to the kitchen to cut the chicken and brought it out with a ginger and scallion sauce.  For a recipe for the home cook try my version on page 64.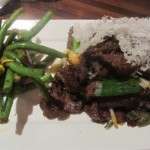 Cumin Beef is creation of Hakka chefs from India who created a new fusion cuisine to appeal to their Indian customers. It blends Chinese cooking techniques and ingredients with Indian spices. In this dish, beef is stir-fried with cumin seeds, chile, and soy sauce for a cross-cultural fusion of enticing flavors. M.Y. China used American Kobe beef in their version. This is an easy dish to make at home, see recipe in The Hakka Cookbook on page 183.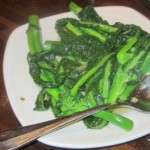 The simplicity of the Chinese broccoli (gai lan) with Sweet Rice Wine (page 230) balanced some of the stronger flavors of the meal. The same basic recipe could be used with other vegetables.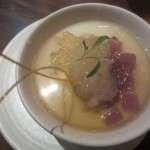 M.Y. China ended the meal with Almond Royale with Ginger Syrup, a sophisticated variation of the Chinese pudding. A fresh zesty ginger syrup floated atop and seeped into an almond-scented panna cotta-like base.
The evening ended with noodle dances by the M.Y. China chefs. Imagine pulling noodles Gangnam-style.
Heartfelt thanks from a very grateful author to all who made this event so special and help me share the taste of Hakka soul food.