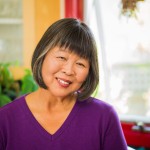 Let me introduce myself. My name is Linda Lau Anusasananan. I know it is a mouthful. Lau is my maiden name, just three letters. People often misspelled this short name. Imagine the confusion when I married my Thai husband and added Anusasananan. It's twelve letters long. The name goes on and on but it's easier to say than you think. Let me break it down for you: A-nu-sa-sa-na-nan. Some people just call me Linda A. or  Linda Lau A.
I spent more than thirty four years writing about food for Sunset Magazine, a lifestyle primer on how to live in the Western United States. As Recipe Editor and food writer, I wrote food stories and developed and tested thousands of recipes for the home cook.  I loved exploring ethnic cuisines, especially Asian. In 1987 I convinced my editor to let me go to China and as a result produced "From China's Kitchens to Ours," the  first story written by an American magazine about home cooking in China. I also served as a special consultant to cookbooks such as Sunset Chinese, Sunset Oriental, Sunset Wok, and contributed to the Sunset Cookbook annuals and other publications. My articles have also appeared in Cooking Light, Flavor and Fortune, Yoga Journal, Zester Daily, and specialfork.com
I am a Chinese cooking expert on grokker.com  Register to see videos of some recipes from The Hakka Cookbook as well as other popular Chinese dishes. Click here to see a video on youtube.
I was born in the America but my ethnic roots are Chinese. Although I ate a lot of Chinese food growing up, typical American foods such as chicken pot pies, spaghetti, and tacos were also frequent fare. So I'm sort of an east-west gal. I love Asian foods but most of my cooking experience comes from working at Sunset Magazine. I like to demystify ethnic recipes for home cooks and Western tastes.
I am a member of the San Francisco Professional Food Society, Association of Chinese Cooking Teachers, and  Les Dames d'Escoffier. In the past I served as president of the San Francisco Chapter of Les Dames d'Escoffier and the Association of Chinese Cooking Teachers.