Description
Veteran food writer Linda Lau Anusasananan opens the world of Hakka cooking to Western audiences in this fascinating chronicle that traces the rustic cuisine to its roots in a history of multiple migrations. Beginning in her grandmother's kitchen in California, Anusasananan travels to her family's home in China, and from there fans out to embrace Hakka cooking across the globe—including  Hong Kong, Taiwan, Singapore, Malaysia, Canada, Peru, and beyond. More than thirty home cooks and chefs share their experiences of the Hakka diaspora as they contribute over 140 recipes for everyday Chinese comfort food as well as more elaborate festive specialties.
This book likens Hakka cooking to a nomadic type of "soul food," or a hearty cooking tradition that responds to a shared history of hardship and oppression. Earthy, honest, and robust, it reflects the diversity of the estimated 75 million Hakka living in China and greater Asia, and in growing communities around the world—yet still retains a core flavor and technique. Anusasananan's deep personal connection to the tradition, together with her extensive experience testing and developing recipes, make this book both an intimate journey of discovery and an exciting introduction to a vibrant cuisine. Alan Lau's art gracefully weaves a visual trail through the pages.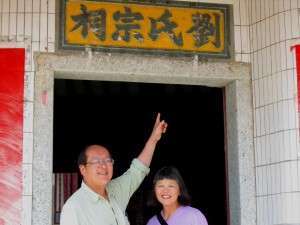 Bios
Linda Lau Anusasananan was recipe editor and food writer for Sunset Magazine for 34 years, where she produced "From China's Kitchens to Ours," the  first story written by an American magazine about home cooking in China. She also served as a special consultant to cookbooks such as Sunset Chinese, Sunset Oriental, Sunset Wok, Sunset Seafood, and Sunset Pasta. She was the president of the Association of Chinese Cooking Teachers and president of the San Francisco Chapter of Les Dames d'Escoffier.
The artist and the author's brother, Alan Chong Lau, wrote and illustrated Blues and Greens, a Produce Worker's Journal and Songs for Jadina. His art appears at Francine Seders Gallery in Seattle, Washington.

Kudos
"Linda Anusasananan has written a remarkable cookbook, weaving together a poignant memoir and an in-depth exploration of Hakka cuisine. This work is an essential for any Asian cookbook library."  Grace Young, author of Stir-Frying to the Sky's Edge
"Linda Lau Anusasananan's heartfelt and honest tribute to the cuisine of her heritage illuminates how Hakka foodways deliciously endure and evolve in the face of transnational migration. In this era of fusion and local cooking, this is the real deal. The marvelous recipes inspire readers to dive in and explore." 
Andrea Nguyen
, author of
Into the Vietnamese Kitchen
and
Asian Tofu
"This beautifully written culinary gem illuminates the haunting history and culture of the Hakka, or the 'guest' people of China. Told as a personal journey, Linda Anusasananan's cookbook presents a brilliant exploration of the inherent link between Hakka food and familial spirit; together these family recipes convey the simple, rustic and tasty flavor profile of a cuisine that has been long overlooked. This is more than just another cookbook." Joyce Jue, author of Savoring Southeast Asia
"We are fortunate to finally have a long-overdue Hakka cookbook. This lovely, well-researched book is loaded with flavorful, homespun foods from Hakka families around the world. It is the essential guide to Hakka culture and cuisine, filled with delicious, easy-to-prepare, healthful recipes."  Jacqueline M. Newman, editor-in-chief of Flavor and Fortune
"A delicious food memoir balanced with personal anecdotes, history, and easy-to follow recipes, The Hakka Cookbook will delight any palate, from the connoisseur to the novice cook who wants to explore the unique cuisine of the Hakka people. Make room on the shelf for this must-have, well researched tome and let expert food writer Linda Lau Anusasananan guides you though her lifelong love affair with the cuisine she grew up with."   Corinne Trang, author of Noodles Every Day and Essentials of Asian Cuisine