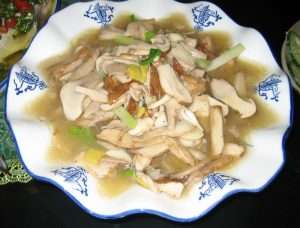 Looking for sides for your holiday dinners? Consider braised mushrooms. This versatile side will complement almost any holiday headliner such as turkey, prime rib, or roast pork.
I tasted this dish in Luodai, an easily accessible Hakka village, just outside of Chengdu, capital of Sichuan province in China. About 90 percent of the twenty three thousand residents are Hakka. The town is home to several large guild complexes, built with donations from Hakka from different provinces of China. These guilds serve as social halls with restaurants and meeting rooms. We dined at huge Hakka feasts at these guilds. Mushrooms appeared in all our meals. Hakka chefs briefly braised the local mountain mushrooms in a rich broth to emphasize their natural umami essence.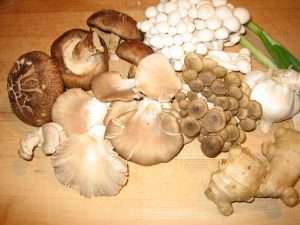 Braised Mountain Mushrooms
Use an assortment of mushrooms. Your farmers' market or Asian grocery store will likely have a good selection.
Makes 4 to 6 servings as part of a multi-course meal
12 ounces assorted fresh mushrooms (oyster, king oyster, shiitake, button, beech, or enoki (limit enoki to 2 to 3 ounces)
1 small leek
2 tablespoons vegetable oil
2 tablespoons thinly sliced garlic
8 thin slices fresh ginger, lightly crushed
1 cup chicken or vegetable broth
2 tablespoons Chinese rice wine (shaoxing) or dry sherry
1 tablespoon soy sauce
1/4 teaspoon salt, or to taste
1/8 teaspoon ground white pepper
2 tablespoons water
1 tablespoon cornstarch
1. Trim off and discard the ends and any soft of discolored portions from mushrooms. If mushrooms are fairly clean gently brush off any debris. Otherwise lightly rinse mushrooms, drain well, and pat dry. Remove and discard stems of shiitake mushrooms. If the oyster and shiitake mushrooms are wider than 3 inches, cut in half through the caps. Slice the king oyster and button mushrooms lengthwise about 1/2-inch thick. If desired, cut the long king oyster mushrooms in half crosswise. Separate clumps of beech and enoki mushrooms into clusters about 1/2 inch wide and leave whole. Trim off and discard root end and tough dark green top from the leek. Cut leek in half lengthwise and rinse well under water, separating layers to remove any grit. Thinly sliced the leek crosswise.
2. Place a 14-inch wok or 12-inch frying pan over medium-high heat. When the pan is hot, after about 1 minute, add the oil and rotate the pan to spread. Add the garlic, ginger, and leek, stir-frying until leek is limp, about 30 seconds. Add the mushrooms (except enoki) and stir-fry until lightly browned, 2 to 3 minutes. Add the broth, wine, soy sauce, salt, and white pepper. Bring to a boil, reduce heat and simmer, stirring often until mushrooms are limp, 2 to 3 minutes.
3. Meanwhile, in a small bowl, mix the water and cornstarch. Add cornstarch mixture to pan and stir until sauce boils, about 30 seconds. Stir in enoki mushrooms, (if using). Transfer to a serving bowl.