Videos about The Hakka Cookbook
Soul Food of the Chinese Nomads is an interview for the show The Better Part produced by Cupertino TV Productions in May 2013.
Soul Food of the Chinese Nomads is a video presentation of the talk I gave to the Culinary Historians of Southern California on September 14, 2013.  Please note a couple of slides (stuffed tofu and salt-baked chicken) were omitted from this video.
Author Faire is a video of the authors introducing their books at the Author Faire at San Jose Public Library on November 2, 2013. My introduction appears at 00:51, I am the first one after the introduction.
Chinese cooking lessons on video
Want to watch how to cook Chinese food? Need a cooking teacher? Click on the following highlighted dishes to view my cooking videos on grokker.com  Register (free and easy) for a 14 day free trial to see previews and limited videos. If you become a paying subscriber, you have full access to all demos and printed recipes, as well as videos on other cuisines and yoga and fitness routines. After the free trial, for a special discount price of $9 a month use my personal code: lindaa9monthly
Hakka recipes:
Some of the dishes demonstrated on grokker.com are adapted from recipes from The Hakka Cookbook.
Hakka Chinese Noodles with Pork and Mushroom Sauce comes from a meal I ate in Singapore. The dark earthy flavors of the mushroom sauce taste distinctively Hakka. It's an easy dish to put together for a weeknight meal. Recipe is on page 104 of The Hakka Cookbook.
Chicken Fried Rice with Tomato Chutney is from a Hakka contributor in Mauritius, a tiny island in the Indian Ocean. In this island's multicultural society, cuisines mix together in a delicious potluck. Here she combines Chinese fried rice with a spicy Indian fresh tomato chutney. Add the chutney to add spicy heat to taste. Omit it, if you prefer traditional fried rice.
Chinese Eggplant with Pork comes from a meal I ate in the Hakka village of Beipu in Taiwan. Braise eggplant with pork, soy sauce, and chiles for a quick dish.
Chicken and Cucumber Stir-fry is from my friend Fah Liong, a Hakka from Indonesia who contributed many recipes to The Hakka Cookbook. Cucumber adds a refreshing crunch to chicken, chiles, and ginger to this healthful stir-fry.
Steeped Chinese Ginger Chicken in Little Lettuce Cups demonstrates an effortless Chinese technique to cook chicken breast so it maintains its succulence. Shred the meat and serve with a fresh ginger sauce. Serve in lettuce leaves for an appetizer. This variation is based on Steeped Chicken Breasts (page 22) and Fresh Ginger Onion Sauce (page 66) in The Hakka Cookbook.
Loofah Squash with Toasted Garlic Crowns is a simple fresh vegetable dish I ate at a Hakka restaurant in Hong Kong. If you can't find the loofah squash (also known as sinqua, silk, or sponge squash), use zucchini.
Other Chinese recipes:
Chinese Glazed Spare Ribs is an easy recipe to make a deli favorite. Marinate baby back pork ribs in a hoisin mixture, then bake and baste to make deliciously shiny glazed ribs that are finger-licking good.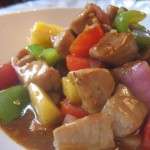 Chinese Sweet and Sour Pork shows my light and healthier version of a popular take-out classic. I skip the deep-frying step and use fresh pineapple for a fresher taste.
Healthy Chinese Cashew Chicken with Peas is an easy stir-fry combining lean chicken breast and crunchy pea pods.
Sichuan Hot and Sour Soup unravels the complex flavors of this soup. It's easier to make than you think.
Egg Foo Yung is a dish my father served at The Pagoda many years ago. This is my version that adapts to almost any leftovers you might have. It's a quick dish perfect for all ages.
Chinese Broccoli with Oyster Sauce, a classic served in many Cantonese restaurants, is so easy to duplicate at home.
Kung Pao Chicken, a popular Sichuan dish, can be made at home with authentic taste and a healthy profile.
Healthy Broccoli Beef, a popular Chinese restaurant offering, is easy to make at home. Also it is likely to be healthier and fresher tasting. Use readily available ingredients to make this quick dish that is likely to become a family favorite.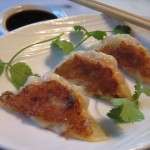 Homemade Potstickers with Ground Pork and Vegetables shows how easy it is to make these pan-browned dumplings.
Stir-fried Beef and Onions is the Chinese version of steak and onion. Stir-fry thin strips of flank steak with two different onions, yellow and green. It's quick and uses easily available ingredients.
Youtube videos
Pork-topped tofu with Lorraine Witte. This recipe is a Hakka classic. Tofu is filled with a ginger-scented ground pork mixture and steamed. A green onion studded dark savory sauce cloaks the tofu. This steamed version is one of the simplest variations. Look for full recipe on page 33 of The Hakka Cookbook.
Steeped chicken breasts with Lorraine Witte. A quick and easy way to cook chicken using a classic Chinese technique that uses residue heat. Lean white meats comes out moist with this technique. Dress chicken with a zesty fresh ginger and onion sauce. Find detailed recipe on page 22 and 66 of The Hakka Cookbook.