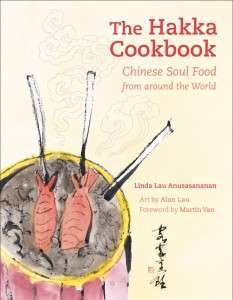 Where to buy The Hakka Cookbook
The Hakka Cookbook: Chinese Soul Food from around the World
By LInda Lau Anusasananan
Art by Alan Lau
Foreward by Martin Yan
University of California Press, October 2012
978-0-520-27328-3
Local Bookstores
Most local bookstores can order The Hakka Cookbook for you. The book is available through these major book distributors: Ingram, Baker & Taylor, and Perseus.
Perseus Distribution, Order Dept., 210 American Drive, Jackson, TN 38301
Tel. 800. 343. 4499; Fax: 800. 351. 5073
Email: Orderentry@perseusbooks.com
North and South America, Asia
Buy the book at local bookstores such as Omnivore Books in San Francisco, Eastwind Books in Berkeley, Wok Shop, and the Asian Art Museum in San Francisco. In Seattle, check Book Larder, Elliott Bay Books, and Wing Luke Museum. In Vancouver, BC, Canada, visit Barbara-Jo's Books for Cooks.
If you live in Mauritius, try Le Cygne Bookshop at the Magic Lantern Complex, 307 Royal Road. 230. 464. 2444.
Online sources in North America for The Hakka Cookbook
Buy from University of California Press.
Better World Books Matches every book purchased on website with book donation to someone in need. (Free worldwide shipping)
Buy in United States from wokshop.com/store,  Amazon.com , Kinokuniya Online Store Bookweb, half.com, abebooks.com, alibris.com , IndieBound, Barnes & Noble
Buy in Canada from Amazon.ca , Indigo Books
Check goodreads.com for an online seller list.
Online Sources outside of North America for The Hakka Cookbook
Better World Books Matches every book purchased on website with book donation to someone in need. (Free worldwide shipping)
For Australia: Kinokuniya Online Store
Bookweb
For Dubai: Kinokuniya Online Store
Bookweb
For France:
Amazon.fr
For Germany:
Amazon.de
For Great Britain and Ireland:
Amazon.co.UK
For Japan:
Amazon.co.jp
, Kinokuniya Online Store
Bookweb
For Malaysia: Kinokuniya Online Store Bookweb
For Singapore: Kinokuniya Online Store Bookweb
For Taiwan: Kinokuniya Online Store Bookweb
For Thailand: Kinokuniya Online Store Bookweb
Also try amazon.com to see if it will ship to your country
Sources for E-Book version (ISBN 9780520953444):
University of California Press

Amazon.com  (Kindle edition)