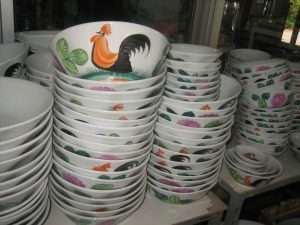 In January, photos of charming Chinese bowls with a distinctive colorful rooster pattern caught my eye in the Bangkok Post's feature article. Little did I know, that these rooster bowls had Hakka roots.
The story was about Yupin Dhanabadeesakul, a woman who was following her Chinese immigrant father's footsteps in their family ceramics business. Her father, Simyu Sae-chin migrated from Guangdong to Thailand during China's civil war. He was a ceramic craftsman and when he discovered kaolin clay near Lampang, he opened a ceramic factory and crafted bowls hand painted with a colorful rooster, the same design he used in China. When I read about his Chinese roots, I couldn't help but wonder if he was Hakka.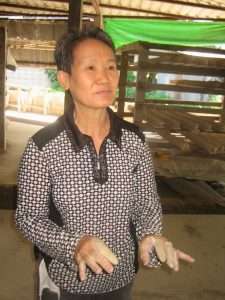 Almost a year later, I found myself in Chiang Mai, not far from Lampang. I remembered the article about the rooster bowls and suggested we visit the Dhanabadee factory. There is a museum, factory outlet and workshop where you can paint ceramic objects with your own design. Our grand children painted elephants while their parents shopped. While their painted ceramic elephants were fired in the kiln, we went on a fascinating tour of the museum that highlights the family company's history and the production of the ceramics.
I was surprised to see Yupin, the daughter of the founder featured in the article, humbly working on the production line, trimming clay bowls. After our tour we asked if we could take a photo with the owner. She gladly agreed. My husband asked her in Thai if she was Chinese Hakka ( จีนแคะ Jeen  Kae.) She answered yes, but her father wanted to make it easier for his children to assimilate in his new country so he gave his children a Thai name. Even with her Thai name, Yupin epitomizes the spirit and tenacity of the hard-working Hakka woman.
Dhanabadee Ceramic Museum Address 543 M.1, T.GLOUYPAE, A.MUANG, LAMPANG 52000 THAILAND Tel. (+66) 05435 4011-2