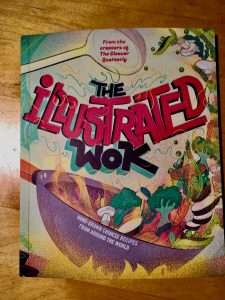 Last spring, the editors of The Cleaver Quarterly invited me to contribute a recipe to their new project,The Illustrated Wok, a cookbook with hand-drawn Chinese recipes from around the world. I was honored to be included in this collection of 40 celebrity chefs, authors, and food writers. Each recipe would be paired with an illustrator. I suggested my brother, Alan Lau, who painted the art for The Hakka Cookbook, illustrate my recipe for Sweet Tangy Bitter Melon Pickles.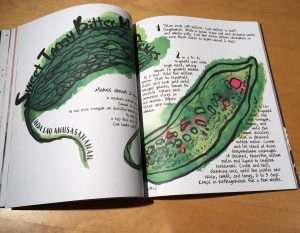 I was amazed at the speed this book was put together. By the November, the book had been funded by kickstarter backers, produced, and printed. I received my copy in December and I am delighted with the results.
Each recipe offers a new voice, a surprise, and a different presentation. Some recipes are illustrated with spare elegant black brush painting, others exude color and humor with comic book graphics. Some introduce fantasy and whimsy to the recipes.
Recipes are categorized in headings based on ingredients, technique, type of dish, or geographic origin. Chefs bring fresh perspectives and often global flavors to traditional Chinese dishes. Recipes do not follow a set consistent style. Each is written in the voice of the contributor. Just reading the stories and savoring the art is almost as satisfying as actually cooking and eating the recipes. Buy the book here.