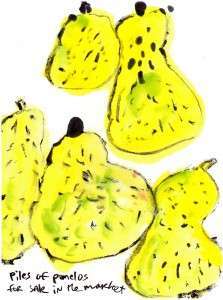 An exciting new kind of Chinese cookbook is at the press. About 6 months ago, The Cleaver Quarterly, a magazine devoted to Chinese food and its diversity, invited me to contribute a recipe to their new project, The Illustrated Wok. Forty chefs paired with forty artists would produce a picture cookbook, illustrated with hand drawn art. Each recipe would be brought to life with colorful unique illustrations.
Alan Lau, my brother and artist for The Hakka Cookbook, created the art for my recipe. At left is a sample of Alan's art that illustrated an article in The Cleaver Quarterly in 2015. He has created a new painting (a surprise) for this new cookbook.
After a short Kickstarter campaign the cookbook, The Illustrated Wok, will soon be a reality. Pre-orders available here. I can hardly wait.