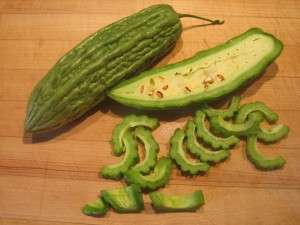 I admit I am not a huge fan of bitter melon. But when transformed into these pickles, I changed my mind. Crunchy, sweet and tangy, with a slight bitter finish, these pickles converted me.
My inspiration came from the Asia Society Event, Chinese Soul Food: Hakka Cuisine. Last spring I consulted with Chef Kin Fong at M.Y. China in San Francisco about the dinner. Most of the menu was inspired by my recipes from The Hakka Cookbook. However, the chef wanted to do something new with bitter melon, a common ingredient in the Hakka diet. He suggested raw paper-thin shavings of bitter melon served with acacia honey and nestled in an ice bowl.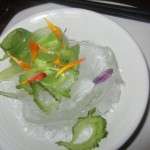 I was a bit surprised.  Bitter melon is commonly cooked, usually stuffed and poached in broth for soup, stir-fried with meat, or stuffed and braised. I had never considered eating bitter melon raw and cold. As I thought more about the concept, it began to make sense. The sweetness of the honey and the cool temperature might temper the bitterness. Served in ice bowls, it would serve as unique palate cleanser.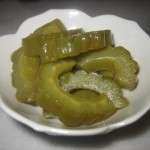 All the way home from our planning meeting, I thought about bitter melon served cold and sweet. How would bitter melon taste pickled? I have a recipe for Pickled Mustard Greens in The Hakka Cookbook (page 147). Why not substitute bitter melon for the mustard greens in the recipe? My experiment worked! I loved the pickle's crisp bite. The sweetness softened the bitterness. They are easy to make and stay crunchy for weeks in the refrigerator. It's a simple way to preserve surplus melons.
Sweet Tangy Bitter Melon Pickles
Bitter melon (foo gwa)  are in farmers' and Asian markets now. They don't look like melons, their shape is more like a slender gourd or a plump zucchini. Their green skin is rutted with bumpy furrows and their interior is filled with white pith and seeds.

Makes about 2 cups
2 medium bitter melons (about 12 ounces)
2/3 cup rice vinegar or distilled white vinegar
2/3 cup sugar
1/2 teaspoon fine sea salt or table salt
1. Trim ends off melons. Cut melons in half lengthwise. With a spoon scoop out and discard seeds and white pith. Cut the melon halves crosswise in 1/4-inch thick slices to make about 2 cups.
2. In a 3- to 4-quart pan over high heat, bring about 1 1/2 quarts water to a boil. Add the bitter melon. Stir to separate slices and cook just until bright green, about 30 seconds. Drain and immerse in ice water to cool quickly.
3. In a large bowl, mix the vinegar, sugar, and salt until the sugar dissolves. Stir in drained bitter melon. Cover and let stand at room temperature overnight. Transfer bitter melon and liquid to smaller containers. Cover and chill, stirring once, until the pickles are crisp, sweet, and tangy, 2 to 3 days. Keeps in refrigerator for a few weeks.