Just received my comp copy of issue 4 of The Cleaver Quarterly. I found my interview  on page 73. Click Dandelion Cuisine to read. I love the way the article looks with my brother's (Alan Lau) colorful art. The article shows what the book might have looked like if the publisher's budget could have afforded the use of 4 color in the book.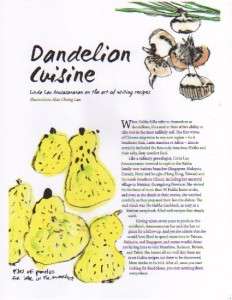 A few months ago a message landed in my inbox, "We would love to interview you in our magazine, The Cleaver Quarterly." I was impressed with their unique interview questions that indicated they had read The Hakka Cookbook thoroughly. I had never seen the publication so did a web search. Since it is a print-only magazine, I couldn't find articles online but got a taste of their mission.
If you are into Chinese food, The Cleaver Quarterly is for you. This year-old publication, headquartered in Beijing, figure more people eat Chinese than any other cuisine. Their focus is to connect people through their passion for Chinese cuisine. This indie publication—sort of like a Chinese-focused version of Lucky Peach—seeks to tell stories through long-form writing. Yeah! Such sentiments are almost unheard of in this age of short bites of text. Irreverent art, photo essays, and illustrations add visual punch to the pages.
In the same issue on page 76, you will also find "Can-Do Attitude," an interview by Winston Chang, who grew up in a Hakka shopkeeper's family in Trinidad. Read more about him in The Hakka Cookbook.
Since the magazine is not supported by ads, it is priced higher than glossy ad-supported mass media publications.  Visit their website to see where to buy or get a subscription. I have seen the magazine at Omnivore Books in San Francisco.