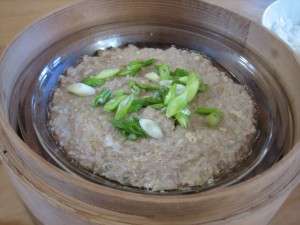 Last month I wrote about Hakka dishes for Chinese New Year.  I had asked a Hakka Facebook group what were some of their favorites. Although many suggested fancy dishes, some elected simple family favorites. One dish was Steamed Minced Pork with Egg (ju ngiuk jin gai chun) also known and steamed pork hash or steamed pork cake.
This pale steamed pork and egg patty looks rather plain and humble, but it packs lots of flavor and comfort food satisfaction.  It is easy and quick to make. Mix minced or ground pork with eggs and seasonings, them steam to make a soft, juicy savory meat patty, similar to a steamed meatloaf.
Steamed Minced Pork and Egg
This version is adapted from a recipe from my friend Fah Liong. It contains Tianjin (Tienstin) preserved vegetables often sold in squat brown crocks in Asian markets. The dry chewy shreds of fermented cabbage add a savory, garlicky, saltiness. If unavailable, omit the preserved vegetables and add more soy sauce. For another version see page 148 in The Hakka Cookbook.

Makes 4 servings as a main dish or 8 servings as part of a multi-course meal
1 pound ground pork
1/2 cup minced shallots or onion
1/3 cup Chinese rice wine (shaoxing) or water
2 tablespoons rinsed minced Tianjin preserved vegetable or 2 teaspoons soy sauce
2 large eggs
2 teaspoons cornstarch
2 teaspoons soy sauce
1 teaspoon sugar
1 teaspoon salt
1/2 teaspoon ground white pepper
3 tablespoons thinly sliced green onion
1. In a medium bowl mix the pork, shallots, wine, preserved vegetable, eggs, cornstarch, soy sauce, sugar, salt, and pepper. Lightly pat the pork mixture into an even layer in an 8- to 9-inch wide shallow heatproof dish that will fit in a steamer such as a Pyrex pie pan.
2. Set the dish on a rack over 2 to 4 inches boiling water in a steamer or wok (if bottom is round, place on a wok ring to stabilize). Cover and steam over high heat until the meat is no longer pink in center (cut to test) about 20 minutes. Watch the water level, adding more boiling water as needed. Carefully remove the dish from steamer. Sprinkle with the green onions and serve.