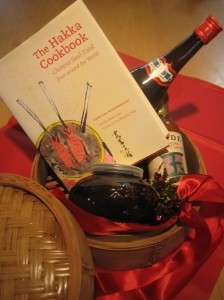 Looking for the perfect gift?  If you have someone on your list who wants to learn to cook Chinese food, here are some suggestions for the novice to the more experienced cook. Of course, I would include The Hakka Cookbook that explains how to use the gift with detailed instructions on techniques, ingredients, and equipment as well as over 140 recipes for Chinese comfort food to special occasion festival dishes. Package a few items together for a Chinese cooking kit.
1. Wok. This is the ultimate all-purpose pan in the Chinese kitchen. Use the wok to stir-fry, deep-fry, braise, boil, and steam. For Western kitchens I would choose a 14-inch flat-bottom wok made from rolled steel or enamel-clad cast iron. Check with the Wok Shop. They will find the right wok for you and your stove. These hard working pans are bargain-priced compared to most high quality pans.  Also buy a wok spatula to make stir-frying easier.
2. Chinese cleaver. This is the equivalent of the French chef's knife. It's an all-purpose knife with the advantage of a wide blade that's handy for crushing garlic and scooping up cut vegetables.
3. Chinese  metal steamer or bamboo steamer. These steamers can accommodate wide dishes often used to hold a whole fish, meats, and beaten eggs. Choose one about 11 to 12 inches wide for the most versatility. In a multilayer steamer you can cook several dishes at a time. Steaming is an easy and healthful way to cook. The Wok Shop as well as many Asian supermarkets sell these steamers. Also look for them online.
4. Staples of the Chinese pantry. Present an assortment of key seasonings, especially those that are not readily available in the supermarket, such as dark soy sauce, Chinese rice wine (shaoxing), fermented black beans or black bean and garlic sauce, ground bean sauce, Tianjin preserved vegetables, dried black fungus, and dried tangerine peel. Look at The Hakka Pantry starting on page 247 in The Hakka Cookbook for suggestions, descriptions, Chinese names, and shopping guidance. Or add one of my sauces, JADE Sichuan Peanut Sauce, that is ready to eat without cooking for a table sauce, salad dressing, or stir-fry sauce.
5. Chinese clay pot.  For the cook who has the basic equipment, consider giving a clay pot (also known as sand pot). Braise stews, simmer soups, and cook rice in these rustic pots that enhance the natural flavors of the ingredients. They also serve as handsome serving dishes. Best to buy these pots at an Asian cookware store such as the Wok Shop. Also available online.
Happy cooking and eating!