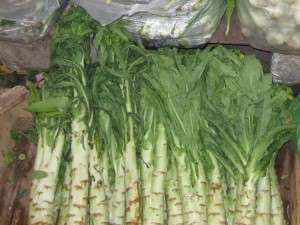 Last weekend, I saw the whole stalks of Chinese lettuce (芹 萵) sold in San Francisco Chinatown. With leafy greens sprouting from a long, thick stem, it looks like a little tree. This vegetable goes by many names–A-choy, stem lettuce, Taiwan lettuce, celtuce, won sun, ching woh, qin woh sun. The tops resemble romaine lettuce, which makes a good substitute. The thick stems have the texture of broccoli stems or kohlrabi with a lettuce flavor.
In China, I saw the vegetable sold with leaves attached to the stalk. In America, I find the tops and stems are often sold separately. The thick stalk-like stem resembles a broccoli stem in texture. Peel it deeply reach the tender interior. Slice the stems to use for pickles, stir-fries, and soups. The leaves can be cut and stir-fried or added to soups.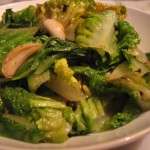 On page 57 of The Hakka Cookbook, try the recipe for Stir-Fried Chinese Lettuce, Garlic, and Black Beans. If you can't find the Chinese lettuce, use romaine lettuce but cut the leaves in half lengthwise if wider than 3 inches. The process is simple. Cut the lettuce leaves into about 3-inch lengths. Wash and drain well. In a hot wok, stir-fry sliced or small whole garlic cloves, fermented black beans, and minced fresh ginger in oil until aromatic. Then add lettuce pieces, a splash of water, and a little soy sauce to taste. Stir-fry just until leaves are slightly wilted. Enjoy!