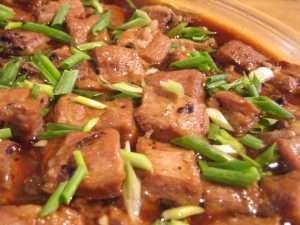 My mom mixed bite-sized chunks of pork spareribs with a pungent mix of fermented black beans, garlic, and ginger. As the pork steamed, this combo of seasonings infused the pork with savory punch and filled the kitchen with mouth-watering aromas. In about an hour, with relatively little hands-on work, a succulent, intensely flavorful dish emerged.
Although the Cantonese also claim this dish, I prefer my mom's more robust Hakka version. She used a generous measure of fermented black beans and often coarsely crushed them with the garlic and ginger to release their essence. She mixed the paste with soy sauce and the pork, then steamed the meat until meltingly tender.
The fermented black beans (also called salted or preserved black beans), are small black soybeans fermented with salt and spices until soft and pungent. Add to meats, seafood, and stir-fries to contribute a distinctive funky, earthy flavor. Look for the beans in small plastic pouches or cardboard cartons in Asian markets.
Mom's Black Bean Pork Spareribs
Ask the butcher to saw across the spareribs to make about 1 inch wide strips. Most Asian markets sell ribs precut into strips. Serve with hot rice to soak up the plentiful juices.
Makes 4 main-course servings or 6 to 8 servings as part of a multi-course meal
1 tablespoon soy sauce
1 tablespoon Chinese rice wine (shaoxing) or dry Sherry
1 tablespoon cornstarch
2 tablespoons fermented black beans, rinsed and chopped
1 tablespoon minced garlic
1 tablespoon minced fresh ginger
1 1/2 pounds pork spareribs, sawed across bone into 1-inch wide strips
2 tablespoons thinly sliced green onion (optional)
1. In a wide shallow heatproof rimmed dish that will fit inside a steamer such as a 9-inch Pyrex pie dish, mix soy sauce, wine, and cornstarch. (If desired, for a more intense flavor, lightly crush fermented black beans, garlic, and ginger in a mortar and to make a coarse paste. Skip this step for a chunkier texture.) Mix fermented black beans, garlic, and ginger with soy mixture.
2. Trim off and discard large pads of surface fat off pork. Cut ribs apart between bones. Add pork to soy mixture and mix to coat.
3. Set dish on a rack over boiling water in a steamer or wok. Cover and steam over high heat until pork is tender to bite, 50 to 60 minutes. If water evaporates before steaming is complete, add more boiling water as needed. Carefully remove dish from steamer. Skim fat from juices and discard. Garnish with green onions.