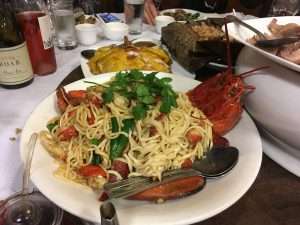 Last night, we enjoyed a pre-Chinese New Year's feast at the Hakka Restaurant in San Francisco. With a group of ten we had enough people to try some of their special order specialties.
My friend Yin-Wah told me that Chef Jin Wah Li makes a soup that no one else makes in the city. The description sounded a bit unusual, but she assured me it was delicious. The chef's wife also claimed it was her favorite soup. So I pre-ordered the "pig stomach stuffed with chicken soup".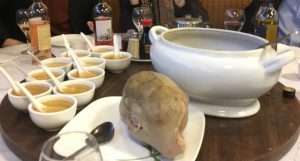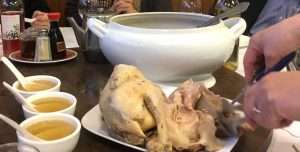 A huge white tureen came to the table. The server lifted out a football-shaped packet to a platter. She slit open the pork stomach wrapper to reveal a whole chicken. Then she ladled the clear golden broth into bowls. She explained that the chicken-stuffed-stomach, along with chicken feet, white peppercorns, ginger, and dried longan (aka dragon eye, a fruit similar to lychee) had steamed together for 5 to 6 hours to create this complex broth. The essence of chicken imbued the broth, with an underlying spiciness from the peppercorns, balanced by a faint fruity sweetness. Each spoonful represented the work of a masterful chef. Although the chicken and pig's stomach were offered for eating, I felt most of their flavor had transferred to the broth.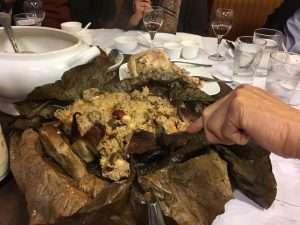 Stuffed duck is another listed specialty. We had tasted the duck years ago with a barley stuffing and wanted to try something different. An unlisted option offered a rice stuffing. The duck arrived with rice studded with savory treasures such as Chinese sausage and dried scallops. The chef had browned the stuffed duck, wrapped it in lotus leaves, and steamed it until the duck fell apart when nudged with a fork. Delicious!
We also pre-ordered lobster noodles. A generous portion of lobster chunks were stir-fried with noodles. Fingers were needed to coax the sweet lobster meat out of the shell.
Other dishes we ordered that are usually on the menu or wall photos:
Chinese Bacon with Preserved Greens (a must-have favorite)
Stir-fried Pea Greens
Clams with Spicy Salt and Black Bean Sauce (another favorite)
Salt-Baked Chicken
Steamed Sea Bass in Two Flavors (with pickled mustard greens and pork)
Hakka Restaurant, 4401-A Cabrillo Street (corner of 45th Avenue), San Francisco, CA 94121 Tel. 415 876 6898
Enter answer to submit *