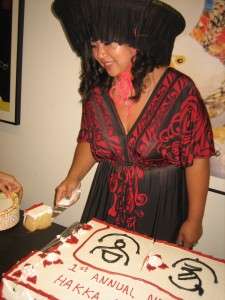 When I attended my first Hakka conference in Toronto in 2008, a feeling of belonging overwhelmed me. It was the first time I was in the company of so many Hakka, guest people like me. All my life I lived mostly in a Western world, feeling different than most Chinese who spoke Cantonese or Mandarin. I knew few Hakka.
The feeling of finding family came again when I attended the first New York Hakka Conference last weekend. Reclaiming our Hakka heritage was the theme. Co-chairs Dr. Keith Lowe and Paula Madison Williams succeeded in bringing Hakkas together to learn about their shared roots and history. From the evening of October 16 to October 18, attendees immersed themselves in Hakka culture, often with a Jamaican vibe since many of the attendees had Jamaican roots.
We listened to speakers discuss how to find our Hakka roots through Chinese names and cemetery records. We learned about the Chinese success as shopkeepers, bakers, and businessmen in the Caribbean. We saw photos of Hakka earth buildings and Hakka food. Revealing films took us into the lives of Hakka searching for their long lost families in China, growing up in China, and living in India.
The Hakka are one people with a shared history. Find your Hakka heritage at next year's Fifth Toronto Hakka Conference, July 1 to 3, 2016.