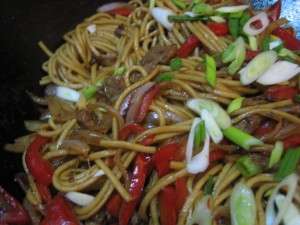 While in Toronto, I had heard about Hakka red noodles. It was a special dish that the Hakka from India made. The name is a bit misleading, because they don't look red, the color is closer to black-brown. The taste is sweet and savory. Although no one could explain the origin of the name, the noodles were seductively delicious.
In India, Hakka cooks stash a bottle of a special sweet soy sauce (hung mee or red sauce) in their refrigerator to make a sweet noodle dish known as hung mee chow mein. It is basically chow mein–stir-fried noodles with vegetables and meat. What distinguishes it from the common variety is a thick syrupy  sauce that is dark, aromatic, sweet, and salty. The sauce is similar to the Indonesian kecap manis which can be used as an alternative.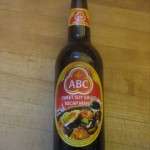 To make this Sweet Soy Chow Mein (recipe on page 178 in The Hakka Cookbook), stir-fry slivers of meat and vegetables, then add cooked noodles and sweet soy sauce (recipe follows) or purchased kecap manis. The sauce will coat the noodles with a dark, glossy sheen.
Sweet Soy Sauce
This sauce is easy to make. Simply boil soy sauce with brown sugar and aromatics until thick and syrupy, almost like honey or pancake syrup. Measuring the sauce will help you attain the right consistency. The salty soy sauce balances the sweetness of the sugar so the results taste savory rather than like dessert.
1 piece dried tangerine peel (2 in. wide)
1 stalk fresh lemongrass
3 thin slices fresh ginger
1 1/2 cups water
3/4 cup dark soy sauce (also called black soy sauce)
1 cinnamon stick
1 star anise
1. Soak the tangerine peel in hot water until soft, about 15 minutes; drain. Trim off and discard leafy tops of lemon grass. Cut the stalk in about 3-inch sections. Lightly crush lemongrass and ginger with the flat side of a knife blade.
2. In a 3-quart pan over high heat, bring tangerine peel, lemongrass, ginger, water, soy sauce, sugar, cinnamon, and star anise to a boil. Reduce heat to medium-high and boil gently until the liquid is greatly reduced and slightly syrupy, about 20 minutes. Pour through a wire strainer set over a 1-quart glass measure. Discard solids. The sauce should measure about 1 1/3 cups. If greater than 1 1/3 cups, return to pan and boil, uncovered, until reduced to the amount. Or if the amount is less than 1 1/3 cups, add water to make that amount. Use or store in refrigerator up to 6 months.