A couple of weeks ago on the way back from China, we stopped in Hong Kong for a couple of days.  Professor Sidney Cheung, whose interview appeared in The Hakka Cookbook, invited me to dinner at a Hakka restaurant, Kong Hing in Tai Wai. In this modest restaurant, we sampled several Hakka specialties such as salt-steamed chicken, stuffed bitter melon, and steamed pork belly with preserved mustard greens.
One of my favorite dishes that night was the stuffed tofu. The chef's version came capped with fried eggs laced with bits of fried ground pork. To recreate, make the Fried Eggs and Chives (page 80) except replace the chives with bits of fried ground pork. Place the eggs over stuffed tofu (page 31, 33, 76, or 215) in a little broth in a clay pot or other small pan. Heat until bubbly, then shower with chopped green onions and cilantro. The eggs add an extra savory element to the tofu and stretch the number of servings.
After dinner, Chef Lau Chung Khong stopped by the table. We learned he originally came from the village of Shinling, also home of the Lau Family Association. His village was a neighbor of Moiyen, where my family was from, in Guangdong province. He came to Hong Kong as a teenager and worked in some Hakka restaurants. In 1988 he started his own restaurant. At his restaurant he serves homey Hakka dishes. At lunch, the rice plates are popular with local workers.
I asked my host, Professor Cheung, if there were many Hakka restaurants in Hong Kong. He said there aren't many because of the high rents. Hakka food has modest ingredients and most are not able to charge high enough prices to cover the rent. Too bad, since the food is so delicious.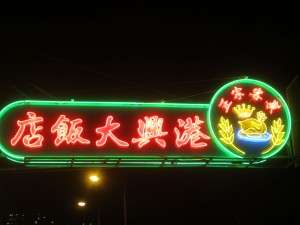 Kong Hing Restaurant G/F,  79-81 Tsuen Nam Rd, Tai Wai, Tai Wai
大圍村南道79-81號地下   Tel. 2691 6726 / 2601 2982