One of the most popular Hakka dishes is Pork Belly with Preserved Mustard Greens ((扣 肉 梅 菜 kiu ngiuk moi choi or kou rou mei cai). In a recent post on The Sandy Food Chronicles, Sandra Lue writes about the version she tasted at The Hakka Restaurant in San Francisco. I  also love Chef Li's version–dark, soft, succulent, salty, and a bit fatty– he captures the Hakka flavor.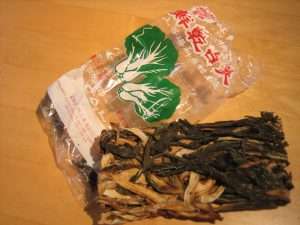 In my book research, I found every cook seemed to have their own version of this dish. Lue shares a few recipes she discovers which I am eager to try. Her post reminded me of another version from Fah Liong, a Hakka from Indonesia. I used many of her recipes in The Hakka Cookbook, but did not have room for her variation on Pork Belly with Preserved Greens. She replaces the salt-and- sugar preserved mustard greens (moi choy) with a more natural salt-free option, sun-dried bok choy (also called cole). She layers the pork slices in the center of the greens so the meat juices can travel through the greens more evenly. Since the pork hides in the center, there's no need to unmold the dish; just dig in. Serve this homey dish with plenty of rice.
 Hakka Pork Belly with Dried Bok Choy
Makes 4 to 6 servings as a main course or 8 to 10 servings as part of a multi-course meal
3 ounces dried bok choy (also called cole), about half a package
1 piece (1 to 1 1/2 pounds) boneless pork belly with skin, preferably with a high proportion of meat
2 tablespoons vegetable oil
2 tablespoons chopped garlic
1 1/2 cups Chinese rice wine (shaoxing) or dry sherry
3 tablespoons dark soy sauce (or 2 tablespoons light soy sauce and 1 tablespoon molasses)
2 teaspoons sugar
1. In a large bowl soak the dried bok choy in hot water until soft and pliable, changing water occasionally, at least 2 hours or up to overnight. Drain and rinse vegetable. Gather the stem ends together, wring out the water, trim off and discard tough ends, and cut the vegetable crosswise into 1 inch pieces.
2. With a knife tip or fork, prick the skin of pork belly all over. Place a 14-inch wok or 12-inch frying pan over high heat. When pan is hot, about 1 minute, add the oil, and rotate the pan to spread. Set the pork, skin-down, in the pan. Cook, pressing down on pork, until the skin is well browned, 2 to 3 minutes. Reduce heat to medium and continue cooking on all sides until well browned. Lift out of pan and cut the pork across grain in 2- to 3-inch sections. Then cut each section with the grain into 1/2-inch wide slices.
3. Remove all the fat from the pan except for 2 teaspoons. Return the pan to medium-high heat. Add the garlic and stir until soft, about 30 seconds. Add the wine, dark soy sauce, and sugar. Bring to a boil. Add the bok choy and pork. Simmer, uncovered, stirring occasionally, until 1/2 to 3/4 cup liquid remains, 15 to 25 minutes.
4. With a slotted spoon, lift out and arrange half the bok choy in a shallow 5- to 8-cup bowl. Arrange pork slices, overlapping slightly, if needed, in an even layer over vegetable. Cover with remaining vegetable. Skim off and discard fat from any remaining pan juices and pour evenly over vegetable.
5. Set the dish on a rack over 2 to 4 inches boiling water in a steamer (at least 1 inch wider than dish) or wok (if bottom is round, place on a wok ring to stabilize). If the steamer lid is metal, wrap the lid with a towel to reduce condensation dripping on the food. Cover and steam over high heat until the pork is very tender when pierced, about 2 hours. Watch the water level, adding more boiling water as needed. Carefully remove the dish from steamer and serve from bowl. Or if desired, set a plate on top of the bowl and invert. Lift off bowl.