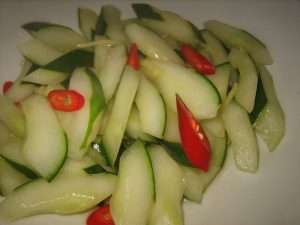 Cool as a cucumber? Not this one, it's hot. Most Westerners eat cucumbers cold in salads, pickles, and sandwiches. But Chinese often cook cucumber. When briefly stir-fried, cucumber surprisingly retains much of its refreshing cool essence and crunch.
Stir-fry the cucumber with poultry or shrimp. Or follow the recipe on page 202 in The Hakka Cookbook, Stir-fried Chicken and Cucumbers. A mild sweet and sour sauce lightly melds the chicken and cucumber together.
Or for a simple vegetable dish, consider stir-frying the cucumber with lots of fresh ginger shreds, and a bit of sugar, vinegar, and chile.
Hot Gingered Cucumber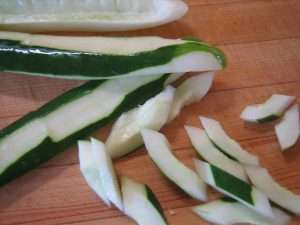 You don't need thin-skinned Persian, English, or Japanese cucumbers for this dish. Thick skinned cucumbers work just fine in this stir-fry. Partially peel the cucumbers, alternating strips of green skin and white flesh down its length. Slice the cucumber in half lengthwise, scrape out the seeds and slice each half lengthwise. Cut each cucumber quarter diagonally into 1/2-inch thick slices.
Makes 4 side-dish servings
1 large cucumber (12 to 16 ounces)
1 tablespoon vegetable oil
2 tablespoons thinly slivered fresh ginger
1/4 cup water
1 tablespoon rice vinegar
2 teaspoons sugar
1/2 teaspoon salt
Thinly sliced red or green chile rings to taste
Chopped cilantro, optional
1. Peel down the length of the cucumber, alternating a 1/2-inch strip of green skin alongside each peeled strip for a striped effect. Cut the cucumber in half lengthwise. With a spoon, scoop out and discard the seeds. Cut each half in half lengthwise. Cut each quarter diagonally into 1/2-inch thick slices; discard the ends.
2. Set a 14-inch wok or 12-inch frying pan over high heat. When the pan is hot, add the oil and rotate pan to spread. Stir in ginger. Add cucumber and stir-fry to coat with oil. Add water and stir-fry just until cucumber is barely tender to bite but still retains some crunch, about 2 minutes. Add vinegar, sugar, salt, and chile to taste, stir-fry to mix. Pour into a serving dish and sprinkle with cilantro.