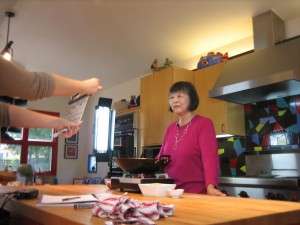 A few months ago I was asked by Grokker.com to be one of their experts on their website which features cooking and fitness videos. It seemed a perfect fit for me since I love food and yoga. We spent four long days shooting cooking segments in my kitchen. This week three of my videos were released. I demonstrate some variations of recipes from The Hakka Cookbook and also show how to prepare some other popular Chinese dishes. I always loved developing recipes, especially for the home cook.
If you are interested in learning how to cook Chinese food, click on the following links. You will see about two minutes of the video and then it stops. To see the complete video, you will need to register (it's free and easy). Once registered, you will be notified of my upcoming cooking demos. You can also view videos from other cooking and fitness experts. Since grokker.com is in beta stage (testing phrase), it is a great opportunity to register and visit the site now for free. Get recipes and lessons from cooking experts from gluten-free to ethnic.
I demonstrate some Hakka recipes in these videos. Click here to learn about the Hakka.  I tasted Chinese Eggplant with Pork (click here for video) in a  tea house in the Hakka village of Beipu in Taiwan. A Hakka woman from Mauritius, a tiny island in the Indian Ocean, shared her recipe for Chicken Fried Rice with Tomato Chutney; click here for video. Since Mauritius has a multicultural society, people often blend cuisines. She paired Chinese fried rice with an Indian-style fresh chutney to add a spicy hot taste.
Want to know how to cook Chinese broccoli like served in many restaurants? It is really easy, check out Chinese Broccoli with Oyster Sauce. Click here for video.
Or see a short overview of my Grokker eggplant video. Click here for video on youtube. Join me at Grokker.com to learn how to cook Chinese food, my way.  I believe in realistic, simplified recipes for the home cook with authentic tastes. Share with your friends, especially those who love to eat but need some help in the kitchen.