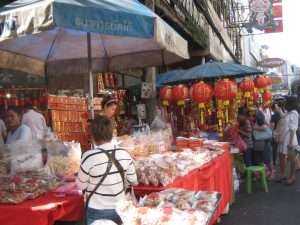 On past trips to Thailand, I had never found any Hakka restaurants. I knew Hakka lived in Thailand, but most Chinese I had met previously were Teochow. Through my book, I had met a Hakka who grew up in Bangkok. Luckily when visiting Thailand a few months ago, my new Hakka friend offered to give me a tour of Bangkok's Chinatown.
As we explored the streets bustling with Chinese New Year shoppers, we decided to try a hidden, old time Hakka restaurant in the area. Piang Ki Pochana is tucked into an alley on the way to Wat Kusolsamankarn and The Hakkas Association of Thailand. This tiny hole-in-the wall restaurant specializes in Hakka dishes.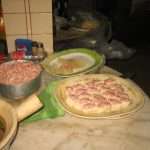 We ordered the tofu skin stuffed with minced pork,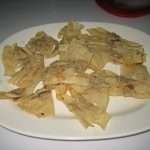 steamed stuffed tofu, pork belly with picked vegetables, and red-hued stir-fried rice noodles. Our favorite was the paper-thin tofu skin wrapped around a bit of minced pork and fried until extra-crisp. We dipped the crispy morsels into a sweet sauce infused with bits of pickled garlic.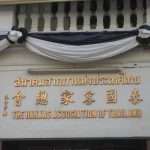 Afterwards we visited the Hakka Association that includes an event hall and a small library. The library contains Hakka books and publications, most are written in Chinese. If you're ever in Bangkok, check it out.
A few days later, we tried another Hakka restaurant Aiew Hin Pochana, a short BTS ride outside of city central.
At this small homey restaurant we dipped small fried spring rolls filled with pork and water chestnuts into a sweet garlic-infused syrup (photo below).
Their version of pork belly moi choy was dark and succulent. Pork-stuffed tofu chunks, pan-browned on one side and braised in a clear sauce, flecked with red yeast had a mild flavor (photo below).
In our limited tasting of Hakka food in Bangkok, I was surprised to find the dishes rather mild in flavor, especially in the local environment of very spicy Thai cuisine. I need to try more dishes to get a bigger picture of the Hakka restaurants in Thailand.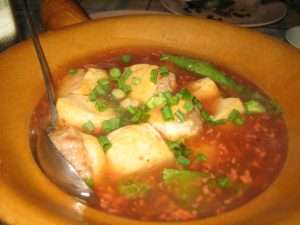 The red yeast rice (kuk 紅 米 麴 ) was present at both meals. These tiny dark red particles are a fermentation by-product of the red yeast growing on cooked non glutinous rice. It adds a deep red color and faint mineral flavor to rice wine, soups, sauces, and fermented bean curd.
Anyone have recommendations for Hakka restaurants in Thailand? Perhaps Hakka cooking only remains in home kitchens. Love to hear from you.