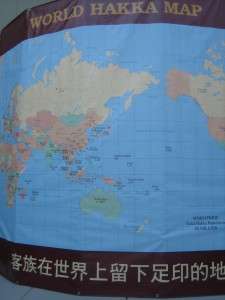 Follow the Hakka diaspora around the world. A few months ago in a Facebook group, someone posted "I am new to the group. Where are you all from?" The responses came from all over the world–Jamaica, Malaysia, Mauritius, Australia, South Africa, Canada, Brunei, and of course, China. In my research for The Hakka Cookbook, I met others who had come from India, Trinidad, Singapore, Taiwan, Tahiti, and Peru. Since the publication of the book, I have heard from Hakka from other countries such as Surinam, Netherlands, Britain, Thailand, and Sweden.
The Hakka have settled on every continent. With our long history of migration, it is no wonder that we have wandered to so many countries and adapted to new homes to seek a better life.
What is the global Hakka population? When I researched my book, I found estimates ranged from 30 million to 120 million. In 1992, the International Association of Hakka estimated that the total worldwide Hakka population was about 75 million.