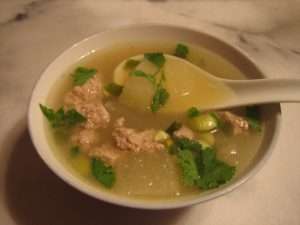 Winter melon soup sometimes appears at Chinese banquets, often steamed and grandly served in a whole melon. You don't need to wait for a banquet to eat this delicious, soothing soup. It's easy to make a simple version of this Chinese classic at home.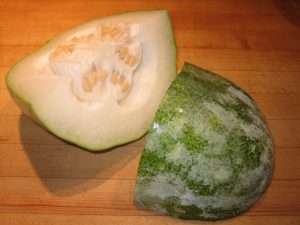 Look for the frosty white-tinged green-skinned melons with snowy white flesh at farmers' markets and Asian supermarkets. The melon's size can equal that of a large watermelon so it is often cut and sold in chunks. When simmered in broth the flesh softens into delicate morsels with a mild, soothing, refreshing taste.
This Hakka home-style version uses ground meat for a quick weeknight soup. Feel free to embellish with bits of ham, seafood, or mushrooms.
Easy Winter Melon Soup
Makes 6 servings as part of a multi-course meal
8 cups chicken broth
6 slices fresh ginger, lightly crushed
2 pounds winter melon
1 large carrot, sliced 1/4-inch thick (optional)
8 ounces ground pork, chicken, or turkey
1 tablespoon minced garlic
1 tablespoon cornstarch
1 tablespoon Chinese rice wine (shaoxing) or dry sherry
1 tablespoon soy sauce
About 1/4 teaspoon salt
1/2 cup chopped cilantro
1. In a 4-quart pan over high heat, bring broth and ginger to a boil.
2. Meanwhile, cut skin off melon and scoop out and discard seeds. Cut melon into about 1-inch chunks. Add melon and carrot to broth. Bring to a boil, reduce heat to low, cover and simmer until melon is almost tender when pierced and translucent, 10 to 20 minutes.
3. Meanwhile, mix pork, garlic, cornstarch, wine, soy sauce, and 1/4 teaspoon salt. Drop 1/2-inch wide lumps of pork mixture into soup. Bring to a boil, cover and simmer until pork is no longer pink in center of thickest part, about 5 minutes. Remove ginger slices, if desired. Skim off fat and discard. Add salt to taste and cilantro. Ladle  soup into bowls.