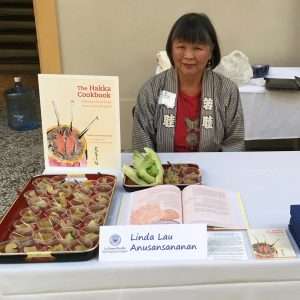 Thanks to all who came to our Les Dames d'Escoffier's "A Literary Feast" last Sunday afternoon. In the light-filled mezzanine of the San Francisco Ferry Building, about 35 cookbook authors shared food samples from their books, autographed copies, and met with interested followers.
Guests sampled Pickled Mustard Greens (page 147) from The Hakka Cookbook. They loved the crunchy texture and sweet-sour taste of these easy refrigerator pickles. Best of all it is one of the easiest recipes in the book.
Our visitors were enthusiastic and interested. Loved meeting so many book fans. Thanks for coming and have a Happy Thanksgiving!