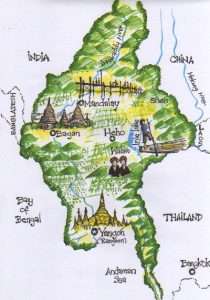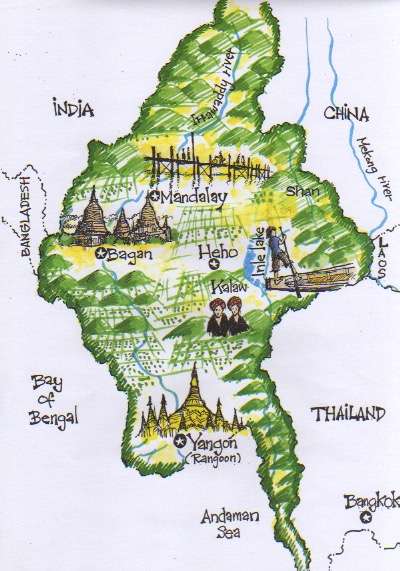 Last month, while traveling through Myanmar (aka Burma), I received notice of a new post from The Sandy Food Chronicles. The headline read" In Myanmar: Ham Choy in Monnyinjin". She writes about finding the Hakka salted mustard greens (ham choy) in the Shan state near Inle Lake. What a coincidence, I am in the same area. A few days later I find a dish of pickled mustard greens and radish tops on the table, ready to add to my noodle soup.
I didn't meet anyone who identified as Hakka but I'm sure they must be here. The Chinese population in Myanmar is roughly 3% and most come from Guangdong, Fujian, and Yunnan. The Chinese have invested in development in this country, so many Chinese have come to work and live here.
Since Myanmar is bordered by China, India, Laos, and Thailand, it's not surprising to taste those influences in the cuisine. Chinese and Indian flavors strongly show up. Our guide tells us that most restaurants serve Chinese food, because customers prefer it since they can eat Burmese food at home. That was also true 40 years ago when I first visited Burma in the mid-70's, I came here to report on Burmese food but no restaurants served it, only Chinese food. I could only find Burmese food in homes, not restaurants. Luckily, I had connections and was able to visit a family and eat a home-cooked Burmese meal. For me, there are many similarities in a Chinese and Burmese meal. Both are centered around rice.
My photos show some of the dishes we ate on our recent tour. Lots of meat and vegetable stir-fries, noodles, and stir-fried vegetables show a strong Chinese hand. The soy-braised pork belly reminded me of Hakka stews.
Simple meat and potato curries were less complex and spicy than Indian versions. Light and brothy soups with a few vegetables were  present at most meals. Some were thickened with legumes.
The salads boast a distinctive Burmese flavor– vegetables lightly dressed with lime juice, chile, ground dried shrimp, fried shallots, fish sauce, and peanuts. Condiments such as relishes, chile pastes, and pickles allow diners to tailor dishes to their taste.