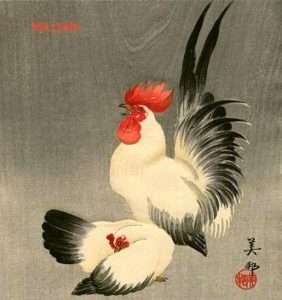 Happy New Year! Khiung Hee Fat Choy! 恭禧發財!  On January 28, 2017 we celebrate Chinese New Year. This year will be the Year of the Rooster.
Food plays an important element of this celebration. Many traditional New Year dishes using ingredients with auspicious symbols and meanings appear on the new year's table. Many family favorites also appear at the dinner.
I adapted this noodle recipe for the family potluck. The noodles symbolize long life. These noodles can be made ahead, served at room temperature, and are highly transportable. The easy sauce that dresses the noodles is adapted from Fresh Ginger-Onion Sauce on page 66 of The Hakka Cookbook. I have used the zesty sauce on noodles and added a few crunchy vegetables to make a room temperature side dish. This sauce is often served with Steeped Chicken (pages 22, 23), Salt-Baked Chicken (page 64), or Salt-Poached Chicken (page 226). For a festive meal, serve the noodles with one of these Hakka chicken preparations.
Fresh Ginger-Onion Long Life Noodles
If desired, add 2 tablespoons Chinese black vinegar (Chinkiang) or rice vinegar to the sauce for a slight tang.
Makes 6 to 8 side-dish servings
Noodles:
1 pound dried Chinese wheat noodles
3 or 4 stalks celery, thinly sliced on the diagonal
1 red bell pepper, cut in thin slivers
Fresh Ginger-Onion Sauce
1/3 cup minced peeled fresh ginger
3 tablespoons minced green onions, including green tops
1 tablespoon minced garlic
1/3 cup vegetable oil
2 tablespoons soy sauce, or to taste
1/2 teaspoon kosher salt, or to taste
1. For the noodles: In a 6 to 8 quart pan over high heat bring about 3 quarts water to a boil. Add noodles, stir to separate and cook until noodles are barely tender to bite, 5 or 6 minutes. Drain and rinse with water well. Drain well and place in a large bowl. Add celery and red pepper.
2. For the ginger-onion sauce: In a 1 1/2 to 2 cup heatproof bowl, mix the ginger, onion, and garlic. In a small pan over high heat cook the oil until it ripples when the pan is tilted and is very hot, 1 to 2 minutes. Pour the hot oil over the ginger mixture (it will bubble vigorously) and mix well. Add 2 tablespoons soy sauce and 1/2 teaspoon salt.
3. Pour Ginger-Onion Sauce over noodles and mix well. Add more soy sauce and salt to taste, if desired. Serve warm or cool.