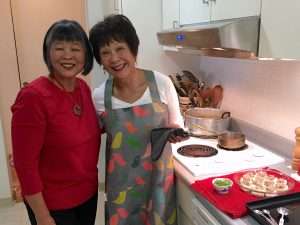 Last weekend, Lorraine Witte, The Chinese Lady and author, invited me to her kitchen to cook some dishes from The Hakka Cookbook. We cooked a famous Hakka classic, stuffed tofu (niong dou fu). This dish was invented as a result of migration. When the Hakka migrated to the south, they wanted to make the dumpling they had eaten in the north. They could not find the wheat flour needed to make the dumpling wrappers so they improvised and stuffed the meat filling into chunks of tofu.
You can watch us cooking pork stuffed tofu here. The full recipe appears on page 33 of The Hakka Cookbook and originally came from Natalie Com Liu who taught me in her kitchen in Lima, Peru.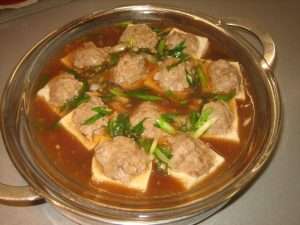 There are many variations to stuffed tofu. The original filling was pork because the Hakka lived inland. As they migrated to the coasts, they often added seafood. The tofu could be steamed, deep-fried, poached, or pan-browned and braised. This steamed version is one of the simplest. Feel free to embellish the ginger-scented pork filling to your tastes.