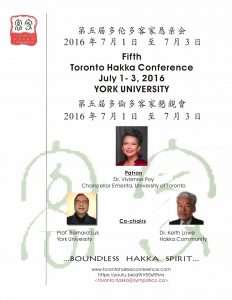 I'm working on my presentation for the upcoming Toronto Hakka Conference. Of course, I will be talking about food.
I will be in Toronto a few extra days and wonder where to eat. Do you have any suggestions for restaurants with Hakka chefs in the Toronto area? Would love to know where you eat and what your favorite dishes are. What's new? I know many Hakka chefs come from India but have heard there are some with Jamaican roots. Please share your suggestions with me!
Visit Toronto Hakka Conference to register and see the program. From July 1 to 3, participants have a chance to meet Hakka from all over the world. Listen to experts speak about subjects ranging from Hakka genealogy, food, dialects, history, and much more. The Toronto area holds a concentration of Hakka from that spans the globe. At my first conference in 2008 I connected with many Hakka and interviewed them for The Hakka Cookbook, Chinese Soul Food from around the World.