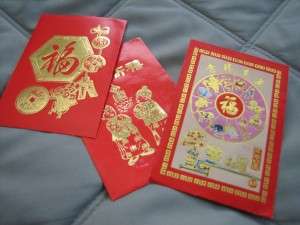 Khiung Hee Fat Choy! Wishing you a prosperous new year! Welcome to the Chinese year 4714 on the lunar calendar which begins on February 8, 2016. This is the year of the monkey.
Last night, I gave the first of four presentations for the San Mateo County Libraries on Chinese New Year and Hakka Soul Food (click here for event schedule). In my talk, I showed slides of many foods eaten during the two-week celebration.
Many dishes served for the Chinese New Year dinner have ingredients with auspicious meanings or symbolism. The Chinese word for fish sounds like abundance. Spring rolls look like gold bars and kumquats resemble gold coins. Green vegetables suggest growth in business. Noodles symbolize long life.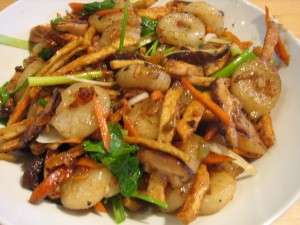 I also included photos of Hakka new year specialties such as Taro Abacus Beads (芋 頭 算 盤 子 Hakka: wu tiuh sun pan jue) that I tasted in Malaysia and Singapore. These chewy disks made from mashed taro and tapioca flour are shaped to resemble the counting beads on a Chinese abacus. Boiled and stir-fried they likely represent wealth. In Hong Kong, the popular multi-course banquet layered in a wash basin known as Basin Feast (盆 萊 Hakka: puhn choi) represents unity.
Last year I conducted an informal survey in Facebook Hakka groups and found many people serve humble family favorites such as Steamed Minced Pork with Egg or steamed fish. Others opt for more labor intensive Hakka specialties such as Pork Belly with Preserved Mustard Green (扣 肉 梅 菜 Hakka: kiu ngiuk moi choi).
I am still planning my menu.  What are you cooking for Chinese New Year Dinner?
.