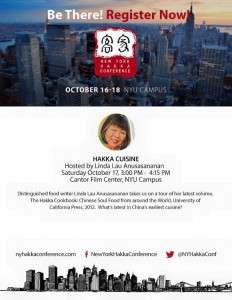 It's almost time for the first New York Hakka Conference. The event starts Friday, October 16 with a  reception at Museum of Chinese in America (MOCA) featuring The Nation Music of Jamaica's Byron Lee. A weekend of films, panel discussions, and talks–all focused on the Hakka follows at the Cantor Film Center at NYU. Come and learn about the "guest people", their history, identity, diaspora, and food.
Click here to register. Special $50 rate for students. Day passes available for $88. Check the schedule of events.
On Saturday, October 17, I will talk about Hakka cuisine and show some slides of food and people I encountered on my global trip. If you have a copy of The Hakka Cookbook and would like me to sign it, please bring it. I am not bringing a suitcase full of books to sell.
You can order or buy The Hakka Cookbook at a couple of local stores: NYU Bookstore, 726 Broadway, NY, NY,  212. 998. 4678 or Kitchen Arts and Letters, 1435 Lexington Ave., NY, NY, 212. 876. 5550.
Hope to see you soon.