In my last post, I wrote about the sweet Taiwan version of a Hakka specialty, lui cha or pounded tea. It wasn't my first encounter with this unique tea. I first tasted a savory version in a small café in Singapore where it was called thunder tea or pounded tea. Signs boasted the tea would cure all aliments–lower my cholesterol, ease digestion, boost my immune system, provide antioxidants and fiber, combat flu, and reinvigorate me. The dish consisted of a larger bowl of rice topped with little mounds of stir-fried greens, tofu, preserved radish, peanuts, and pressed tofu. A smaller bowl of a thick bright green tea, which resembled a thin pea soup came alongside. I was instructed to pour the secret green tea over the rice and mix it all together. It was delicious and energizing.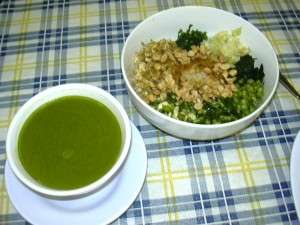 A few days later in Kuala Lumpur, I met Amy Wong at her Eiffel Restaurant and Dessert House (now closed). I asked her about the tea. She generously shared her recipe which was published in Famous Cuisine Home Recipes. She pounds a mixture of fresh green herbs such as basil, mint, and cilantro with dried green tea leaves, sesame seeds, and peanuts in a large rough textured bowl with a big stick, then adds boiling water to make a healthful herbaceous tea. She presents the tea with a bowl of garlic rice topped with vegetables, tofu, and nuts. When mixed together, the many elements merge to make a healthy rice bowl that explodes with vitality, flavor, and texture.
Each of many varied ingredients contribute a health benefit, texture, and taste which makes the end result so fabulous. My family loved this dish when I tested it. However with its long ingredient list, it is not quick to make. You can prepare many of the ingredients ahead. And if you can't find some of the vegetables, adapt to what you have in your local market. In my recipe, I use an electric blender to simplify the preparation.
Here I offer only the tea portion of the recipe so you can compare it with the Taiwan version in the previous post. For a simple tasting, pour it over rice topped with some stir-fried greens, and pressed tofu. To find the complete recipe with the toppings and the garlic rice, see The Hakka Cookbook, page 120.
Herbaceous Pounded Tea from Malaysia
Makes about 5 1/2 cups, 6 to 8 servings
2 cups fresh Thai or Italian basil leaves
2 cups fresh mint leaves
2 teaspoons vegetable oil
1 teaspoon chopped garlic
1/4 cup chopped cilantro
1 tablespoons dried green tea leaves
6 black peppercorns
2/3 cup roasted salted peanuts
3 tablespoons toasted sesame seeds
1 cup cold water
4 cups boiling water
1 teaspoon kosher salt, or to taste.
1. Coarsely chop basil and mint. Set a 10- to 12-inch frying pan over medium-high heat . When the pan is hot, add the oil and rotate the pan to spread. Add the garlic and stir until soft, about 30 seconds. Add the basil, mint and cilantro; stir-fry just until the herbs turn bright green, about 30 seconds. Remove herbs from the pan.
2. In a blender, finely grind the tea leaves and peppercorns. Add the peanuts and sesame seeds; blend until finely ground. Add the basil mixture and cold water, and blend until smooth.
3. Just before serving, add 1 cup of the boiling water to herb mixture in blender and whirl until smooth, holding blender lid down with a towel. Pour tea into a 2-quart pan. Add the remaining 3 cups boiling water and salt; whisk until blended. Stir over medium heat until hot. Serve hot.